Ebby Halliday Acers Library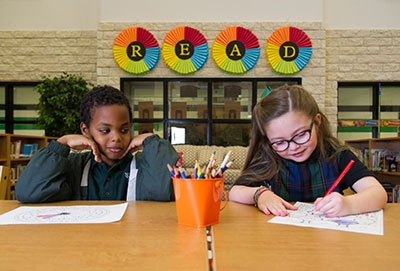 The library at North Central Texas Academy is a beautiful, well‑equipped facility for helping to enhance the education of young people. The library has a very nicely-balanced collection of books for pleasure reading, as well as books for working on school projects in the elementary and secondary grades. The library computers may be used by the students to supplement their classroom instruction. The Academy subscribes to several educational databases to aid in this process. The World and I, Nettrekker, and the H. W. Wilson Abridged Reader's Guide are all available for use in the library. For the students' pleasure, the library makes available reading books from the Texas Library Association's reading lists, such as Bluebonnet Books for elementary grades, Lone Star Books for middle school, and the Tayshas Booksfor high school readers.
The elementary students have a weekly scheduled library time, and the secondary students may access the library anytime during the school day with a pass from their teacher. One of the librarian's goals is to make the students comfortable using the library. She tries to do this through various lessons and activities. Of course, along the way, she hopes to get them hooked on books!