Yates, Kenny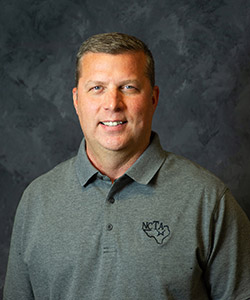 Head Boys Basketball Coach
Coach Yates worked as a professional educator for 28 years. He earned his master's degree in educational administration from Texas Christian University and undergraduate degree from the University of Texas at Arlington. Coach Yates has worked as a teacher, coach, and/or administrator for Birdville ISD, Coppell ISD, White-Settlement ISD, All Saints Episcopal School of Fort Worth, and The Oakridge School in Arlington, Texas. At Oakridge, he served the school in many capacities over a twenty-year period. His responsibilities included serving as the school's Athletic Director for six years and the head boys' basketball coach for 17 seasons.
In his 23 seasons as a Texas High School Basketball Head Coach, Yates' teams have amassed a 578-288 record. His teams' accomplishments include two TAPPS district championships and a regional final appearance, three MISC championships, two SPC Division II championships, and two SPC Division I championships. His 2002 SPC Division I Championship team finished as the number one ranked private school team in the state of Texas. In 1998, Yates received "Coach of the Year" honors by Lay Witnesses for Christ International.
His purpose driven approach for working with young people and coaching basketball is evident in the way he communicates, invests, and interacts with his players. Yates believes that success is a product of hard work, discipline, knowledge, and preparation. He strives to instill these qualities in every athlete he coaches. Coach Yates resides in Aledo with his wife, Tricia, daughter, Rachael, and son, Cameron. His oldest daughter, Bernadette, resides in Boston, Massachusetts with her husband, Dr. Chris Sconyers and Coach Yates' grandson Jameson.